"Where The Dairy Industry Does Business®"
ADPI® was established under its current name on April 17, 1986, through a merger of the American Dry Milk Institute (founded in 1925) and the Whey Protein Institute (founded in 1971). In April 1987, ADPI further expanded the scope of the organization by further merging with the Evaporated Milk Association (founded in 1923). ADPI's efforts today build upon nearly 95 years of work and encompasses all types of dairy ingredients and manufactured dairy products.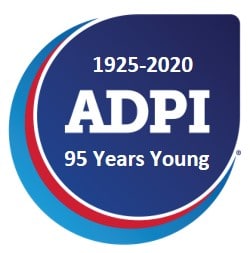 Now organized as a single body, ADPI serves the needs of its members by:
Promoting our industry's image and enhancing its growth and development
Assisting members with technical, educational, statistical, and market-related matters.
Harmonizing standards relating to manufactured dairy products.
Promoting the dairy products processing industry and its products through relations with affiliated industry organizations
and applicable government bodies.
Providing a strong, effective voice for the manufactured dairy ingredients and products industry.
ADPI effectively accomplishes these tasks through its committees and task force structure, by leveraging its member's collective experience, knowledge, cooperation, and the guidance of its member industry leaders.