The American Dairy Products Institute is pleased to announce four recipients for the 2022 ADPI Scholarship Award Program.
The Jim Page Memorial Scholarship was created in memory of James J. Page. Jim enjoyed a distinguished marketing career in the dairy industry and served as the Chief Executive Officer of ADPI from 2002 through 2008.
Receiving this year's Jim Page Memorial Scholarship recipients are Lara Maccabee of Twin Falls, Idaho and Bailee Aisenbray from Roscoe, Illinois.
Lara Maccabee is currently earning her Bachelor's Degree in the area of both Accounting and Finance from Idaho State University. Lara had the opportunity to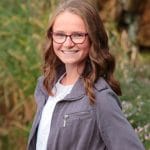 work as a financial and operations intern for the past two summers at Idaho Milk Products and looks forward to her working as an audit intern at Eide Bailly in Boise, Idaho this summer, where she will learn more about the auditing process and gain exposure to life as an accountant within a professional practice. Lara greatly appreciates her time working at Idaho Milk Products and values the dairy industry and how nutritious dairy products help make her "Strong Inside." 
Bailee Aisenbray is a full-time student pursuing a degree in Food Science and Technology with a minor in Ag Business at the University of Wisconsin –
River Falls. Already certified in pasteurization and HACCP, Bailee plans on adding cheese maker to this list as she plans to complete the cheese maker short course within the year. Bailee is looking forward to working as a quality assurance intern with Ellsworth Cooperative Creamery in June this coming summer. After graduation, Bailee's goal is to stay in the quality and production sector of the dairy industry.
The Phillip Tong Educational Scholarship was established in honor of Phillip Tong, PhD, who served as ADPI's Director of Dairy Science, Education, Research from 2016 to 2021. This annual scholarship endowed by ADPI is in recognition of Dr. Tong's contributions to the Training, Education, and Development of people in the dairy industry.
Receiving the first-ever Phillip Tong Educational Scholarships are Dina Graves from Glenview, Illinois, and Claire Sipple of Denmark, Wisconsin.
Dina Graves aspires to contribute to the food industry by creating nutritious, delicious, affordable and sustainable products for consumers. A food science
major at Clemson University with a concentration in culinology and a minor in microbiology, Dina confirmed her passion for the food industry during an internship at Edlong Flavors, where she thoroughly enjoyed performing sensory tests on flavor products.  Dina is already working on the "next great dairy product idea." 
Claire Sipple is currently studying Food Science at the University of Wisconsin – Madison. To date, Claire has completed internships at Agropur as a Cheese Operations Intern and Corporate Quality Assurance Intern, as well as
served as a descriptive sensory panelist at the Wisconsin Center for Dairy Research. Her internships helped her form her future plans of pursuing a role in cheese manufacturing following graduation.
ADPI provides the opportunity to compete for and earn scholarships to its member's employees, and/or dependents thereof each year in association with established qualifying criteria.  Click here for more information on the ADPI Scholarship Program.